Smart 8 Bay AA AAA Battery Charger for NiMH NiCD Rechargeable Batteries Build-in 2 USB Fast Charging Ports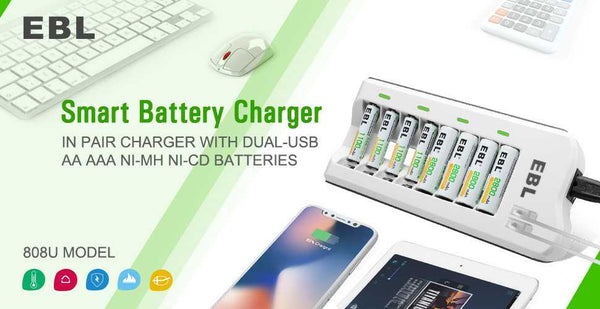 ⚡
Smart Battery Charger
⚡
【Control by Intelligent MCU】
Automatically stop charging when detecting improper input voltage, defective or short circuit, or non-rechargeable batteries.
【

Safety and ETL Certified

】
Multi-protection and the ETL Mark is proof of product compliance to North American safety standards, ensures complete safety for you and your devices
【

Constant current charging

】
This intelligent battery charger would protect the aa aaa batteries against current fluctuation and keep them safe while using this charger.

【

2 USB Ports for Phone Charging

】
The multi-purpose battery charger comes equipped with 2 USB ports ( USB 1:5V/2.1A USB 2: 5V/1.0A) for charging a smartphone, iPod, or another USB device.
The battery charger can charge batteries and phones at the same time.

【

Patent Trickle Charge Mode

】
Adopting -∆V intellectual cut-off charging method, automatically turn to trickle charge, overheat-detection to prevent over-charging, short circuit protection, and reverse polarity protection.
【

Upgraded Charger (808U) for 808

】
Individual and smart, could freely charge All Brands 2/4/6/8 AA AAA Ni-MH Ni-CD rechargeable batteries.
【Auto & Smart Indicator】
EBL 808U with personality LED indicator. Red means charging; Green means fully charged.
【Good Heat Dissipation】
Efficient prevents overload, overheating, over-current & voltage, and short circuit for safer, faster charging, EBL always provides you a safe environment, reliable battery charger.
【 What You Get 】
1 x 808U 8 Slot Battery Charger
1 x User manual
1 x AC power cable

【Specification 】
Product Type: 808U 8 Slot Battery Charger
Manufacturer: EBL
Weight: 10.65oz
Dimensions: (190*94.5*28.5)±0.3 mm
Pack Size:1
Input: 100-120V AC MAX: 4A
Output: 2.4V DC 180mA
Compatible: AA batteries and AAA batteries
【Attention】
1.Please ensure the battery installed is correct: make the +/- pole of the battery is a match the +/- pole of the charger.
2.Never mix charge different types and different capacities of batteries under the same LED indicator.

【What's the advantage of the smart battery charger? 】
The voltage of the battery increases slowly during the charging process, until the battery is fully charged. After that, the voltage decreases, which indicates to an intelligent charger that the battery is fully charged. The smart chargers employ a variety of cut-off systems to prevent overcharging.