AA Rechargeable Batteries for Solar Lights Replacement, 1100mAh High Capacity Ni-CD Battery
 ⚡AA Batteries⚡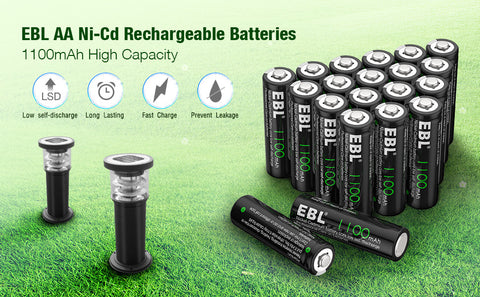 【Longer life】
Holds 75% power after 3 years while general rechargeable batteries will lose all the power if not using for a long time.
【Professional ProCyco Technology 】
The batteries made with superlattice alloy, a high retention rate of electric charge, low loss of capacity, excellent discharge performance at high temperature, can be recharged up to 1200 times
【Attention】
* Never reverse installing, heating, disassemble or put it into the fire, otherwise it may cause liquid leakage or explosion.
* Don't mix-use new and old or different cell-type batteries.
* Keep out of reach of children.
【 What You Get 】
4/20 Packs AA 1100mAh rechargeable Ni-Cd batteries 
【 Strengths 】
⚡Low self-discharge
⚡Long-Lasting
⚡Fast Charge
⚡Prevent Leakage
【Specification 】
Battery Size: AA Batteries
Manufacturer: EBL
Weight:  3.54oz/17.07oz
Voltage: 1.2V
Battery Technology: Ni-CD
Dimensions:  Height:50.2±0.5mm Diameter:14.1±0.3mm
Pack Size: 4/20
Product Type: Batteries
Rechargeable Y/N: Yes
【Is it worth buying rechargeable batteries? 】
In most cases, if you are using rechargeable batteries instead of disposable batteries. You won't lose too much performance: the best rechargeable batteries can power your device with just one charge, which lasts as long as most high-quality disposable batteries. Over time, the cost is very low.