Batteries that have long shelf and performance lives. Alkaline C 1.5v Batteries Alkaline Batteries
⚡C Battery⚡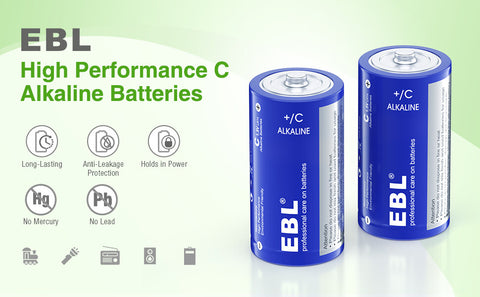 【 Ultra Long Lasting 】
EBL high-performance C size alkaline batteries have been manufactured with premium raw materials and high-density cell technology, they will give your devices enough power and last longer, so you can rest assured to use your various devices.
【 10-Year Shelf Life  】
With high-density cell technology, EBL C Size alkaline batteries can maintain the best power for up to 10 years in storage, buy in bulk and save them without worry.
【 Great Protection and Non-Leakage】
EBL batteries provide excellent anti-leakage performance during storage and over-discharge use, provide superior protection for you and your devices.  
【 What You Get 】
4/8 packs C Batteries
【Specification 】
Battery Size: C size alkaline batteries
Manufacturer: EBL
Weight: 19.19 oz
Voltage: 1.5V
Battery Technology: Alkaline
Dimensions: Height: 49.25±0.75mm Diameter: 25.55±0.65mm
Pack Size: 2/4/8
Product Type: Batteries
Rechargeable Y/N: No  
【what's devices use 1.5v batteries?】
Applicable to all equipment that requires aaa batteries, such as game controllers, mice, remotes, toys, and more, you can buy our batteries with confidence.