Rechargeable C Battery High-Performance Ni-Cd Battery 4000mAh Pack of 2
 ⚡C Batteries⚡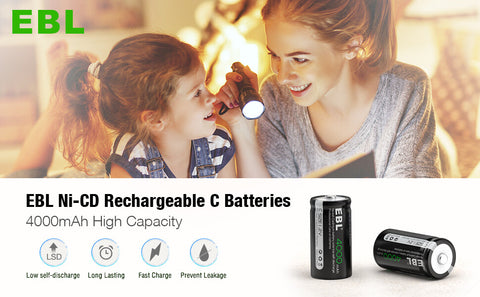 【High Capacity & Long Lasting Time】
4000mAh High Capacity C Size Rechargeable Batteries can give you more time to run with an LED candle and it can replace any capacity NIMH Nicad C cells battery.
【Match Your Device Perfectly】
Perfect for LED candles, flashlights, etc. replace all alkaline disposable batteries that power your portable CD and MP3 players, digital camera, children's toys, and others.
【Good Performance】
Much better high-temperature performance than other type batteries can be used in -4℉ to 140℉, They can be charged from the sun even in the snow.
【Pre-charged for used immediately】
1200 times cycle use after full charge, no more repeat purchase disposable alkaline batteries

【 What You Get 】
2 packs C Batteries
【 Strengths 】

⚡The high retention rate of electric charge
⚡Can be recharged up to 1200 times
⚡Long-Lasting & Economical
⚡Match Your Device Perfectly
【Specification 】
Battery Size: C Batteries
Manufacturer: EBL
Weight: 5.08oz
Voltage: 1.2V
Battery Technology: Ni-Cd
Dimensions:  Height: 50±0.6mm Diameter: 25.5±0.6mm
Pack Size: 2
Product Type: Batteries
Rechargeable Y/N: Yes
【Do C batteries expire? 】
Yes, C batteries expire, just like any other kind of battery for household use. However, a battery's shelf life differs among each brand so be sure to check the manufacturer's specific shelf life rating when planning ahead.