EBL 4/8PCS 1.2V 400mAH AAAA Ni-MH Rechargeable Batteries, for 
Calculator, Remote Control, Flashlight, Wireless Doorbell, Alarm Clock, Bike Light, Surface Pen, Wireless Mouse
⚡ Ni-MH Rechargeable Batteries 
⚡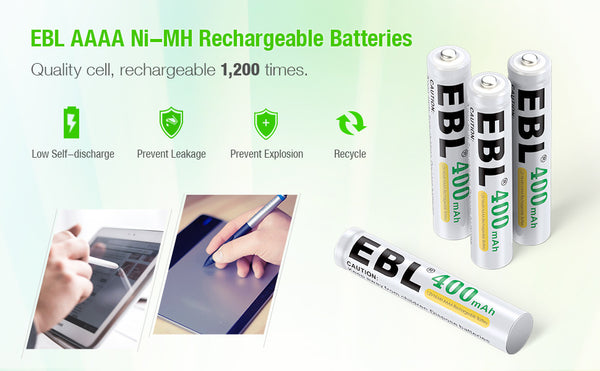 【Specification of battery 】
EBL AAAA Ni-MH Rechargeable Batteries
Charger Type : NR41AAAA300J
Nominal voltage:1.2V
Manufacturer: EBL
Weight: 31.9g
Voltage: 1.2V
Capacity:  400mAH
Battery Technology: Ni-MH
Product Type: Batteries
Rechargeable Y/N: Yes
Minimum capacity:300min
Typical capacity:315min
Diameter:7.90-0.7
Height:42.204
Weight(Approximately):0.246oz
Standard Charge:30mA(0.1C)x16hrs
Fast Charge:300mA(1.0C)x1. 1hrs
Intemal Impedance: At 1000 Hz
Model:NR41AAAA300J 1.2V
Fast Charge:6(0.02C)~15(0.05C)
Maximum Discharging Current:900(3.0C)momentary
Ambient temperature: 20°C 士5°C 
Relative Humidity:65土20%
Discharge: 60mA(0.2C) to 1.0V/cell
High Rate Discharge: Standard Charge/rest 30min discharge at 3.0C to 0.8V
Humidity: Standard charged, stand for 14 days at 33+3C and 80+5% of relative humidity
【Long Life】
Low Self-discharge, Can be Stored for Long Periods
Adopt advanced low self-discharge technology, EBL AAAA battery still holds 75% of capacity after 3 years of nonuse.
【T
echnology

】

The Supercell Lattice - EBL cell is made by using the Supercell Lattice technology, so that it has a larger internal space to accommodate such a large capacity of power juice, and provides the best performance of constant pressure and heavy-duty discharge.
【
Multi-fonction

】

EBL AAAA Ni-MH rechargeable batteries provide stable and reliable power to surface pen, remote control, clock, flashlight, calculator,  wireless doorbell, bike light wireless mouse, etc.  
【
be Recharged up 1,200 Times

 

】

EBL adds mix- protection additive to the negative pole of batteries protects the material from degradation in the progress of recharge and discharge, extends lifespan up to 1,200 cycles.

【
Safety Assurance

】

Ni-MH eco-friendly cell doesn't contain Hg/Cd/Pb, makes no pollution to the environment, and uses DBCK steel shell which can protect the battery against explosion due to overpressure.

Ni-MH cell does not contain hydrargyrum, Nickle-cadmium, and plumbum, no pollution to the environment.
【
Protection 

】

Quality Steel Shell, Very Sturdy and Durable
Effectively prevent the battery from leakage and short circuit.


Batteries Storage Case
A practical storage box protects the batteries against crashes or punctures. Help you organize or carry batteries easily.
【 Strengths 】
⚡Recycle
⚡Prevent Explosion
⚡Low Self-discharge
⚡Prevent Leakage 
⚡Portable & Mini, Easy Using
⚡Professional technical, high quality
⚡Environmentally Friendly & Economically
【 What You Get 】
4/8 x batteries
1 x Batteries Storage Case
【Is it worth buying rechargeable batteries? 】
In most cases, if you are using rechargeable batteries instead of disposable batteries. You won't lose too much performance: the best rechargeable batteries can power your device with just one charge, which lasts as long as most high-quality disposable batteries. Over time, the cost is very low.