2300mAh Sub C NiCd Rechargeable Batteries for Power Tools 1.2V Flat Top Sub-C Cell Batteries with Tabs
⚡Sub C Battery
⚡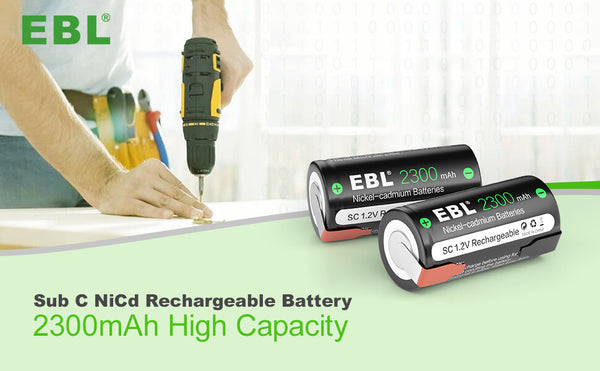 【Specification of battery 】
Battery Size: Sub C Battery
Manufacturer: EBL
Weight: 3.6/7.72oz
Voltage: 1.2V
Battery Capacity: 2300mAh
Battery Technology: Ni-Cd
Dimensions: (Diameter x Height): 0.87 x 1.67 inch
Product Type: Batteries
Rechargeable Y/N: Yes
【 High-Quality Cell Sub C】
EBL High-Performance Sub C battery provides more power and vacuum than it ever had before.
【Flat-top design with tabs】
Easy soldering, Free combination used these to build a new package using the connector piece from the old battery pack. Rebuilt exact Voltage for you and your device.
【600 Times Cycle Sub C Cell】
EBL Procycle Technology with high capacity nicd sub c batteries, provide long-lasting use time per charge
【Ultra fit for High Drain Device】
Compatible with high drain electronics, such as power tools, cordless drills, emergency lights and survival portable devices.
【 Package list】
2/4 packs Sub C Battery

【Is it worth buying rechargeable batteries? 】
In most cases, if you are using rechargeable batteries instead of disposable batteries. You won't lose too much performance: the best rechargeable batteries can power your device with just one charge, which lasts as long as most high-quality disposable batteries. Over time, the cost is very low.
Find the best Batteries & Charger Combos at EBL Official.