1.5V Lithium-ion Rechargeable AA Batteries 3300mwh Lithium Battery with Micro USB Input and led Indicator
⚡Li-ion Rechargeable Batteries ⚡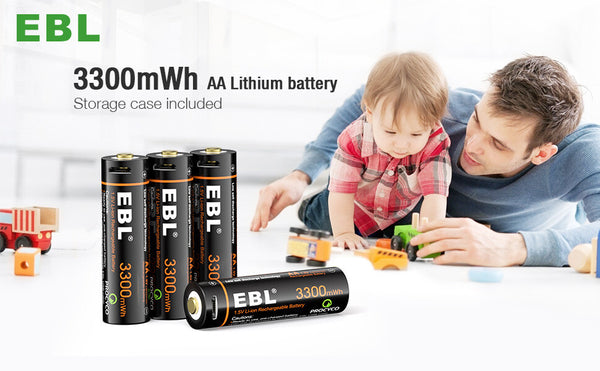 【Specification 】
Battery Size: Li-ion Rechargeable Batteries
Manufacturer: EBL
Weight: 4.9oz
Voltage: 1.5V
Battery Technology: Li-ion
Dimensions: Height: 50.00mmMax Diameter: 14.70mmMax
Pack Size:4
Product Type: Batteries
Rechargeable Y/N: Yes
Mode: YN -U R A 1407-276
Cell: IN R 14430/750m Ah /3.6V
Shelfperiod:1 year
Rated Capacity:750mAh
Minimum Capacity:700mAh
Discharge: 350mA
cut-off voltage:2.75V
Energy:2.70 Wh
Nominal Voltage:3.6V
OpenVoltage:3.60V~3.70V
LoadVoltage:≥3.60V
Internal Impedance:≥3.60V
Internal Impedance:≤85mQ
Charge voltage:4.20V
Standard charge current:150mA
Max charge current:750mA
Standard discharge current:150mA
Max discharge current:1150mA
Discharge end-off voltage:2.75V
Discharge cut-off voltage:2.50V士0.1V
Rated Capacity: Rated Capacity
Minimum Capacity:1500mAh
Nominal Voltage:1.50V士0.1V
Standard discharge current:350mA
Discharge: 350mA
USB charge voltage:5.00V士0.5V
USB charge current:300mA土50mA
PCM: YN-UR14-A0
**Please use the micro 5VDC charging method to charge, please do not use the lithium charger to charge the battery.
【 Long battery Life 】
Can recharge up to 1200 cycles, equal to 1200+ disposable batteries, more powerful and saving money. Recycle and perfectly reduce the harm to the environment.
【 Build-in LED Light Shows the Charging Process 】

The LED indicator shows the red light when the battery is recharging.
The LED indicator shows the blue light when the battery was fully charged
【

Smart Charging Design

】
Unique design with a micro-USB port in the side of the battery, and come with a 4 in 1 USB cable. It can be directly recharged by plugin a USB port like laptops, power bank, wall adapter, etc. Easy and convenient to charge anywhere and anytime.
【

 Advanced iQuick charging technology

】
It can provide a longer working time than alkaline and NiMh batteries for every charge, more efficient and energy-saving.
【 Multiple Safe Protection】
Supports over-charged, over-discharged, over-voltage, over-current and short circuit protection ensures complete safety for you and your devices.
【 What You Get 】
4 packs Li-ion Rechargeable Batteries
User manual x 1
4 in 1 charging cable x 1
【 Strengths 】
⚡Long Shelf Lifes
⚡Steady Voltage
⚡USB Charging Design
⚡Multiple Safe Protection
【Is it worth buying rechargeable batteries? 】
In most cases, if you are using rechargeable batteries instead of disposable batteries. You won't lose too much performance: the best rechargeable batteries can power your device with just one charge, which lasts as long as most high-quality disposable batteries. Over time, the cost is very low.
Click the EBL USB Rechargeable Batteries Series