EBL USB Rechargeable D Batteries 10000mWh 1.5V Long Lasting D Cell Li-ion Batteries 2 Pack.
⚡D Batteries⚡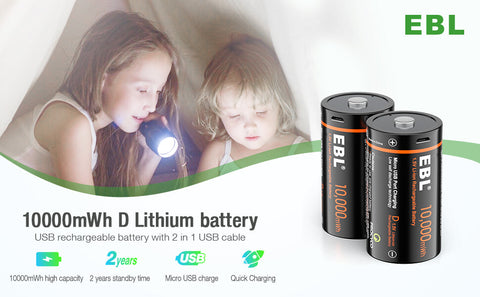 **Please use the micro 5VDC charging method to charge, please do not use the lithium charger to charge the battery.
【Specification 】
Battery Size: Li-ion  USB Rechargeable D Batteries
Manufacturer: EBL
Capacity: 10000mWh
Recycle time: up to 1200 times
Charging Time: about 6 Hours
Weight: 9.38oz
Voltage: 1.5V
Battery Technology: Li-ion
Dimensions:  Height: 61.1±0.8mm Diameter: 32.1±0.6mm
Pack Size: 2
Product Type: Batteries
Rechargeable Y/N: Yes
【USB Charging Design】
Unique design with a micro-USB port on the side of the battery, no need for the extra battery charger. it can be directly recharged by plugging in a USB port like a laptop, power bank, wall adapter, etc. Easy and convenient to charge anywhere and anytime.
【Steady Voltage】
Keep steady 1.5V voltage until the whole cell is depleted, making the devices work more stable. The advantage of a lithium battery is no memory effects, you can charge the battery anytime whatever fully or partially drained.
【1200 Cycles Time】
Recharge up to 1200 cycles, the lithium batteries do not contain Hg / Cd / Pb harmful metal substances. Perfectly replace the disposable battery and ordinary rechargeable battery.
【Multiple Safe Protection】
Supports over-charged, over-discharged, over-voltage, over-current and short circuit protection ensures complete safety for you and your devices.
【Widely Application】
Standard D cell batteries, widely used in household devices like radios, LED candles, gas stoves, alarm clocks, toys, water heaters, flashlights and more.
【Easy Storage Case】
Every 2 batteries were packed in one professional battery storage case, easy to store.
【 What You Get 】
Rechargeable D lithium battery x 2
2 in 1 charging cable x 1
Transparent battery storage box x 1
【Is it worth buying rechargeable batteries? 】
Yes, the best rechargeable batteries can power your device with just one charge, which lasts as long as most high-quality disposable batteries. Over time, the cost is very low.
Click the EBL USB Rechargeable Batteries Series