EBL 3V CR123 16340 Li-ion USB Rechargeable Batteries+Charger for Arlo Camera Lot
⚡USB 

Batteries+Charger⚡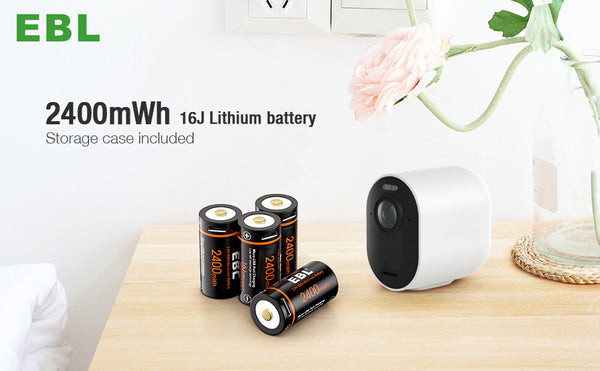 **Please use the micro 5VDC charging method to charge, please do not use the lithium charger to charge the battery.
Specification
Voltage: 3 Volts
Reusability: Rechargeable
Capacity: 800mAh (2400mWh )
Recycle time: up to 1200 times
Charging Current: 5V/1A
Weight: 18.8g / pcs ( 0.67oz / pcs)
Battery Size: 16.5mm x 35mm (± 0.2mm)
Model:16340USB
Cell Model:16300/700mAh
Nominal Voltage:3.0V±0.1V
Nominal Capacity:700mAh
Charge Voltage(Max):5.00V0,2V
Charge Current(Max):350mA+50mA。USB
Discharge Cut off Voltage:2.3-2.5V
Discharge Current(Normal):0.14A
Discharge Current(Max):0.7A
Short circuit condition: Disconnect load or charge activation
Supply current:≤60
Factory rated capacity:≥60% of Normal Capacity
Over-discharge protection voltage:4.30+0.050V
Over-discharge protection voltage:2.30+0.10V
Overcurrent: 2.1~3.9A
The static current: Less than 60 uA
Standard charge input:5V/1A
EBL 16J Lithium Battery 
Arlo rechargeable batteries. 3V 2400mWh long-lasting Li-ion batteries( BATTERY SIZE: 16.5mm X 35mm), compatible with Arlo Camera (VMC3030/VMK3200/VMS3330/3430/3530), flashlight, camcorder, electronic Toy, alarm system and more.

Intelligent USB Charging Design 
Easy to charge with the included 4 in 1 USB cable, no additional battery charger required, just plug into a USB port for charging at any time and anywhere.

High Capacity & Long Lasting 
3V 2400mWh lithium-ion batteries can provide steady 3V output voltage, making the devices work more stable; No memory effect can be recharged up to 1200 times when fully or partially drained.

Quick Full Charge in 2 Hours 
You could charge 4 batteries at the same time by providing cable, saving time. The built-in LED lights allow you to check the charging status easily.

Safety Replacement Batteries 
EBL 3V USB batteries with PTC Protected, could replace one-time-use batteries: 123, 123A, BR2/3A, CR123, CR123A, CR123R, CR17335, CR17345, DL123A, EL123AP, K123, K123A, K123LA.
Package
4 × 3V CR123 16340 Li-ion Battery
1 × 1 to 4 Micro USB cable
1 × manual

Can rechargeable batteries be charged by USB?
Rechargeable batteries are convenient because they can be charged through any USB port. Plug them into a USB port on your computer, power bank, solar panel, or car. Any USB port that can charge other electronic devices will work for USB rechargeable batteries.
Click the EBL USB Rechargeable Batteries Series