Buy from Amazon: 
 ⚡AAA Rechargeable Battery⚡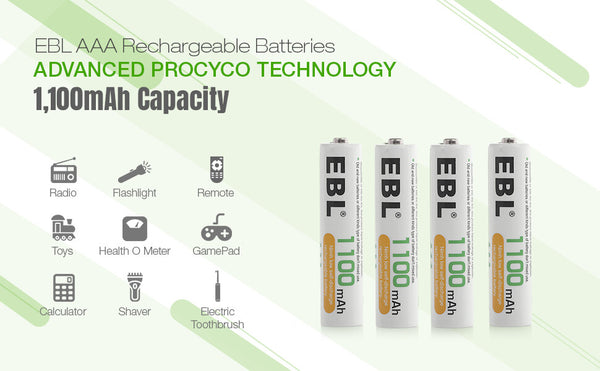 【Specification 】
Battery Size: AAA Batteries
Manufacturer: EBL
Weight: 2.33/4.55/9.03oz
Voltage: 1.2V
Battery Technology: Ni-MH battery
Dimensions: Height:44.35±0.3mm  Diameter:10.35±0.25mm  
Pack Size: 4/8/16
Product Type: Batteries
Rechargeable Y/N: Yes
【Ultra Long Lasting 】
EBL high-performance
Ni-MH
batteries have been manufactured with premium raw materials and high-density cell technology, they will give your devices enough power and last longer, so you can rest assured to use your various devices.
【 High performance & High Quality 】
Up to 1,200 rechargeable cycles.
Precharged 15%~20% of capacity by solar energy. Could be used when you get it.
Excellent charge/discharge performance, the batteries will keep a high quality after 3-5 times charge & discharge when used in the first time or long time no used.
【 Longer life &

 

 Economical

】
Longer life in the high drain devices than normal Alkaline batteries.
Doesn't contain Hg/Cd/Pb, no pollution to the environment.
【Compatible Models 】
 Great for high-power demand devices such as digital cameras, children's toys, and so on.
【 Professional ProCyco Technology 】
ProCyco (Professional recycle) helps batteries could max their best capacity while charging and recycling up to 1200 times.
Upgraded cells - safety ensured, more reliable.
【 What You Get 】
4/8/16 packs AAA Batteries
【 Strengths 】
⚡Easy To Charge
 
⚡Environmentally Friendly & Economically
 
⚡Long-Lasting & Economical
 

【 What's the advantage of a rechargeable battery?】
Rechargeable batteries are particularly handy for things that drain fast and go through lots of batteries.