🌈   🌈   🌈   🌈   🌈   🌈   🌈   🌈   🌈   🌈   🌈   🌈   🌈   🌈   
10 Pack- 5 Color High Capacity Ni-MH AA Rechargeable Batteries with ProCyco Technology (
Upgraded Cells

)
🌈   🌈   🌈   🌈   🌈   🌈   🌈   🌈   🌈   🌈   🌈   🌈   🌈   🌈   
⚡AAA Battery⚡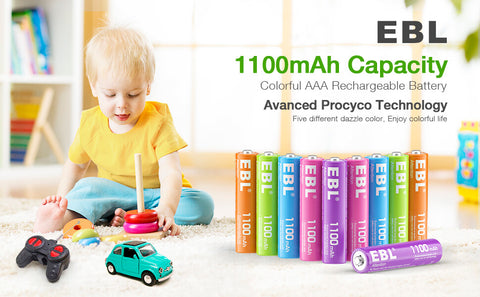 High performance & High Quality
Up to 1,200 rechargeable cycles. Precharged 15%~20% of capacity by solar energy. Could be used when you get it.
No longer to worry about the endurance of the batteries, EBL 1100mAh AAA 1.2V batteries will provide ultra strong power for your devices to perform well and operate longer.
Longer life &

 

Safety Assurance
Longer life in the high drain devices than normal Alkaline batteries.
Ni-MH eco-friendly AAA cell doesn't contain Hg/Cd/Pb, makes no pollution to the environment, and using DBCK steel shell which can protect the battery against explosion due to overpressure.

Professional ProCyco Technology
ProCyco (Professional recycle) helps batteries could max their best capacity while charging and recycle up to 1200 times.
Upgraded cells - safety ensured, more reliable.
What You Get
2 x Orange AAA batteries
2 x Green AAA batteries
2 x Blue AAA batteries
2 x Pink AAA batteries
2 x Purple AAA batteries
Specification
Battery Size: AAA Batteries
Manufacturer: EBL
Weight: 5.33oz
Voltage: 1.2V
Battery Technology: Ni-MH
Dimensions: 110x50x13mm
Pack Size: 10
Product Type: Batteries
Rechargeable Y/N: Yes 
Note
Batteries come with low power juice due to safety reasons, should use it out and recharge it to full to test its performance.
High capacity batteries are a little bit bigger than low capacity batteries, it won't affect the usage.
Batteries will come with EBL storage cases, please form a good habit of storing batteries so that they will extend their lifespan.
⚡   ⚡   ⚡   ⚡   ⚡   ⚡   ⚡   ⚡   ⚡   ⚡   ⚡   ⚡   ⚡   ⚡   
What's the difference between rechargeable battery and non-rechargeable battery?
The main difference is that rechargeable batteries can be put to use again after have been fully discharged once, while non rechargeable batteries cannot be charged again once they discharge fully.