EBL

1 / 4PCS 

USB Rechargeable 9V Lithium Batteries - 5400mWh Long-Lasting Li-ion Batteries (4pcs) with A Micro Charging Cable - Quick Charge in 2 Hours
**Please use the micro 5VDC charging method to charge, please do not use the lithium charger to charge the battery.
⚡
USB 9V
 Batteries 
⚡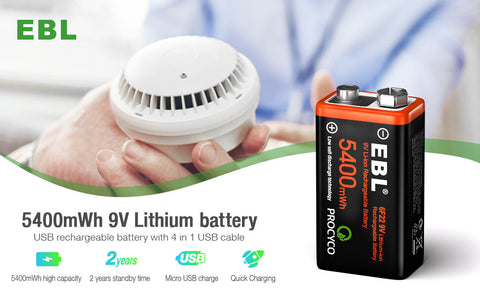 【Specification of battery 】
Battery Type: Li-ion Rechargeable Battery
Manufacturer: EBL
Weight: 30.2g
Voltage: 9V
Capacity:  5400mWh
Recycle time: up to 1200 times
Charging Time: about 2 Hours
Charging Current: 5V/1A
Battery Technology: Li-ion
Product Type: Batteries
Rechargeable Y/N: Yes
Size: 1.8*1*0.6 inch
【
9V Lithium battery

】

5400mWh long-lasting Li-ion batteries without memory effect, provide steady voltage until the whole cell is depleted.
【
Quick charge in 2 hours

】

Advanced iQuick charging technology with DC 5V/2A USB input, the batteries are fully charged in 2 hours, saving time, and more efficiency.
【
Unique USB Charging Design

】

Convenient to charge anywhere directly, with no need for an extra battery charger. The built-in LED lights allow you to check the charging status.
【
be Recharged up 1,200 Times

 

】

These USB rechargeable batteries have longer battery life than disposable alkaline batteries, economic, and saving your money.
【
High Performance

】

EBL Li-ion batteries with 5400mWh capacity, support stable power, and longer working time for high frequently used devices, such as smoke/fire alarms, wireless microphones, toys, GPS, home security devices, medical devices, etc.
【 What You Get 】

1 / 4 x batterIes

Note: 1pc battery without a USB cable
          4 pcs batteries with a USB cable
【 Strengths 】
⚡Recycle
⚡Prevent Explosion
⚡Low Self-discharge
⚡Prevent Leakage 
⚡Portable & Mini, Easy Using
⚡Professional technical, high quality
⚡Environmentally Friendly & Economically
【Is it worth buying rechargeable batteries? 】
In most cases, if you are using rechargeable batteries instead of disposable batteries. You won't lose too much performance: the best rechargeable batteries can power your device with just one charge, which lasts as long as most high-quality disposable batteries. Over time, the cost is very low.
Click the EBL USB Rechargeable Batteries Series