9 Volt
Lithium Ion

Rechargeable Batteries, 6F22 9V 600mAh Li-ion Batteries 
⚡6F22 9V Li-ion Battery⚡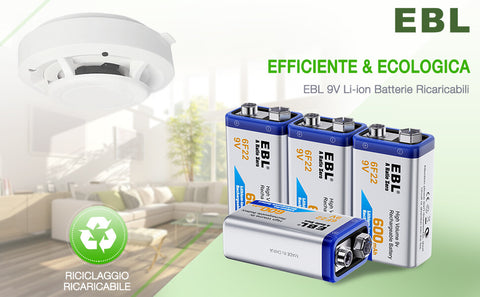 【Specifications of Single Cell】
Battery Size: 6F22 9V Li-ion Battery
Manufacturer: EBL
Battery Technology: Li-ion
Rated Voltage: 7.4V
Charge limited voltage: 8.4V
Discharge-off voltage: 5.6V
Rated Capacity: 600mAh(0.2C)
MInimum Capacity: 550mAh(0.2C)
Maximum discharge current: 3C discharging 3-5S;  1.8A discharge 3-5S, normal charging and discharging.
Charging Method: CC-CV
Standard Charging Current: 0.12Ah         0℃ ~ 45℃
Standard Discharge Current: 0.12Ah       -10℃ ~ 50℃
Rapid Charging Current: 0.60Ah            0℃ ~ 45℃
Rapid Discharge Current: 0.60Ah          -10℃ ~ 50℃
Total Resistor: ≤230mΩ  (AC 1kHz AC Resistor)
Maximum current consumption: 10μA
Dimensions:  L=1.87inch  W=1.04inch  H=0.65inch
Weight: 1.06oz
Rechargeable Y/N: Yes
【Ultra Long Lasting 】
EBL high-performance Li-ion batteries have been manufactured with premium raw materials and high-density cell technology, they will give your devices enough power and last longer, so you can rest assured to use your various devices.
【Compatible Models 】
Recommended for smoke alarms, professional audio, and medical devices.
Could be used for any brand 9V Li-ion Enable chargers.
【 Professional ProCyco Technology 】
ProCyco (Professional recycle) helps batteries could max their best capacity while charging and recycle up to 1200 times.
Upgraded cells - safety ensured, more reliable.
【Safety Ensured, effectively profection】
Over-charge, over-discharge, over-heat, over-current & short-circuit protection.
Lower power consumption IC Design & High capacity circulatory function, perfect replace your original batteries.
Batteries come with precharged, no memory effect, improved low self-discharge makes it still maintain 75% of capacity after 3 years of non-use.

【 What You Get 】
1/4/6 packs 9V Batteries
Tips for 9V li-ion rechargeable batteries:
6F22 9V Li-ion Battery could be used for any brand 9V Li-ion Enable chargers.
The standard voltage of all brands' 9V lithium-ion rechargeable batteries is 8.2V-8.4V.
【Is it worth buying rechargeable batteries? 】
In most cases, if you are using rechargeable batteries instead of disposable batteries. You won't lose too much performance: the best rechargeable batteries can power your device with just one charge, which lasts as long as most high-quality disposable batteries. Over time, the cost is very low.