9V Batteries 280mAh Rechargeable Battery 
6F22 NIMH Nickel Metal Hydride Battery
 ⚡6F22 9V 280mah Battery⚡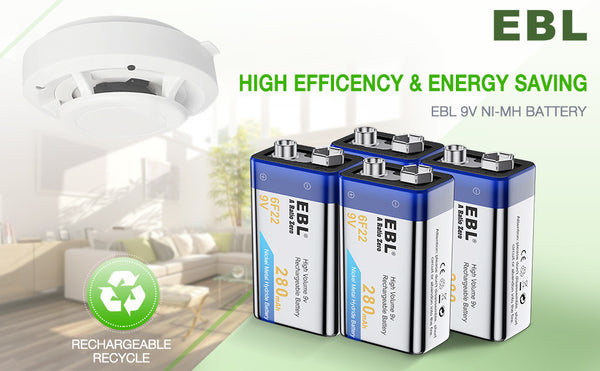 【Specifications of Single Cell】
Battery Type: 6F22 NIMH Nickel Metal Hydride Battery
Nominal Voltage: 8.4V
Rated Capacity: 280mAh
Minimum Capacity: 150mAh
Standard Charge: 15(0.1C)mA, 16 hrs
Fast Charge: 75mA with charge termination control, 2.4 hrs
Final Discharge Voltage: 1.0V
Trickle Charge: 4.5mA (0.03C) 0~45℃
Discharge Cut-Off Voltage: 7.0V (Less than 1.0C discharge)
Maximum Continuous Discharge Current: 300mA(2C) -10~50℃
Weight: 1.2oz
Size: 1*1.9*0.66 inch(W*H*L)
Service Life: >500 cycles
Battery Technology: Ni-MH
Rechargeable Y/N: Yes
According to IEC discharge characteristics standard
Internal Resistance: ≤75mΩ
Ambient Temperature: Standard charge 0~45℃
                                     Rapid charge 0~40℃
                                     Discharge -20~50℃
Store: (65+20% RH)
Less than 30 days: -20~50℃
Less than 90 days: -20~40℃
Less than 360 days: -20~30℃
*Charge before use, use the correct charger for Ni-MH batteries.

【
 

Ultra Long Lasting 】

EBL high-performance Ni-MH batteries have been manufactured with premium raw materials and high-density cell technology, they will give your devices enough power and last longer, so you can rest assured to use your various devices.
【 High performance & High Quality 】
Allows you to enjoy up to 5.5 hours of toy activity (Results may vary by device and usage).
Improved low self-discharge makes it still maintain 75% of capacity after 3 years of non-use.

【Compatible Models 】
Great for high power demand devices such as smoke alarms, digital cameras, game controllers, toys, and clocks, and medical devices.
【 What You Get 】
1/2/4 packs 6F22 9V 280mAh Batteries
【 Cautions 】
1. Reverse charging is not acceptable.
2. Do not charge/discharge with more than the specified current.
3. Do not short circuit the battery.
4. Do not incinerate or mutilate the battery.
5. When not using a battery, disconnect it from the device.
6. If the battery gets hot after use, cool it in a ventilated environment before charging it again.
7. During long-term storage, the battery should be charged and discharged once every half a year.
8. Do not mix batteries with other battery brands or batteries of different chemistry such as alkaline and zinc-carbon batteries.
9. Do not mix new batteries in use with semi-used batteries, the battery may be over-discharged.
10. Keep away from children. If swallowed, contact a physician at once.
【Is it worth buying rechargeable batteries? 】
In most cases, if you are using rechargeable batteries instead of disposable batteries. You won't lose too much performance: the best rechargeable batteries can power your device with just one charge, which lasts as long as most high-quality disposable batteries. Over time, the cost is very low.