9 Volt Rechargeable Batteries Lithium-ion 9V 600mAh Li-ion Batteries 
⚡9V Battery⚡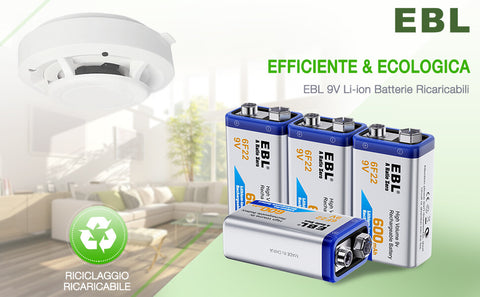 【Ultra Long Lasting 】
EBL high-performance D alkaline batteries have been manufactured with premium raw materials and high-density cell technology, they will give your devices enough power and last longer, so you can rest assured to use your various devices.
【Compatible Models 】
Recommended for smoke alarms, professional audio and medical devices.
Could be used for any brand 9V Li-ion Enable chargers.
【 Professional ProCyco Technology 】
ProCyco (Professional recycle) helps batteries could max their best capacity while charging and recycle up to 1200 times.
Upgraded cells - safety ensured, more reliable.
【Safety Ensured, effectively profection】
Over-charge, over-discharge, over-heat, over-current & short-circuit protection.
Lower power consumption IC Design & High capacity circulatory function, perfect replace your original batteries.
Batteries come with precharged, no memory effect could be used at any time.

【 What You Get 】
1/4/6 packs 9V Batteries
【 Strengths 】
⚡Long Shelf Lifes
 
⚡Supreme Safety
 
⚡Long-Lasting Power
 
⚡Trusted Battery Brand
【Specification 】
Battery Size: 9V Battery
Manufacturer: EBL
Weight: 1.06oz/4.16oz/5.93oz
Voltage: 9V
Battery Technology: Li-ion
Dimensions:  L=47.5±1mm  W=26.5±1mm  H=16.5±1mm
Pack Size:1/4/6
Product Type: Batteries
Rechargeable Y/N: Yes